04 May 2017
We just finished this video working with Andrew Colin Beck he's a way rad artists and animator.
We're capturing the magic from the Franklin Planner and Palm Pilot and bringing them into present day. Feel the magic, so much. Many feels, wow.
03 May 2017
We're so very excited to announce the iPad app is here. You've waited and we've worked.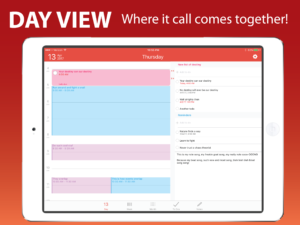 Look at Day View! You've never seen it so spacious and luxurious. Your calendar can also pinch to zoom in and out, that's something you can do on iPhone as well in case you didn't know.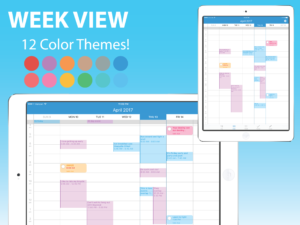 Week view gives you all the real estate you'd ever need to see what's going on. Long press or tap to create and long press to move an event around. As always press the date at the top to go to "now".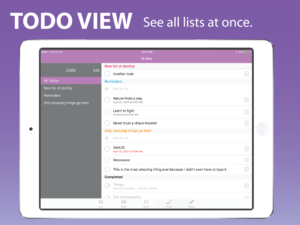 Here's something we're especially proud of – surprisingly this is the only place you'll see an "All Todos" tab for Reminders sync! Weird, huh? All the rest of the planner apps out there think you only want to see one list at a time at any time. We believe you should have the right to choose which of your own todos you see. Todo justice for all!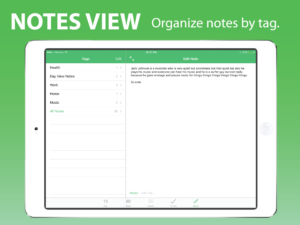 And of course Notes View is way awesome on an iPad as well because you can organize by category, or of course, view all. Add as many tags to a note as you like, it will show up in all those categories.
Enjoy!
26 April 2017
Hey everyone thanks to a faithful customer we noticed a bug that we're fixing right now.
When you're using Parker Planner on iPhone and iPad sometimes the calendars you show and hide in settings get a little mixed up.
We've found the cause and we're on it!
It was this screen: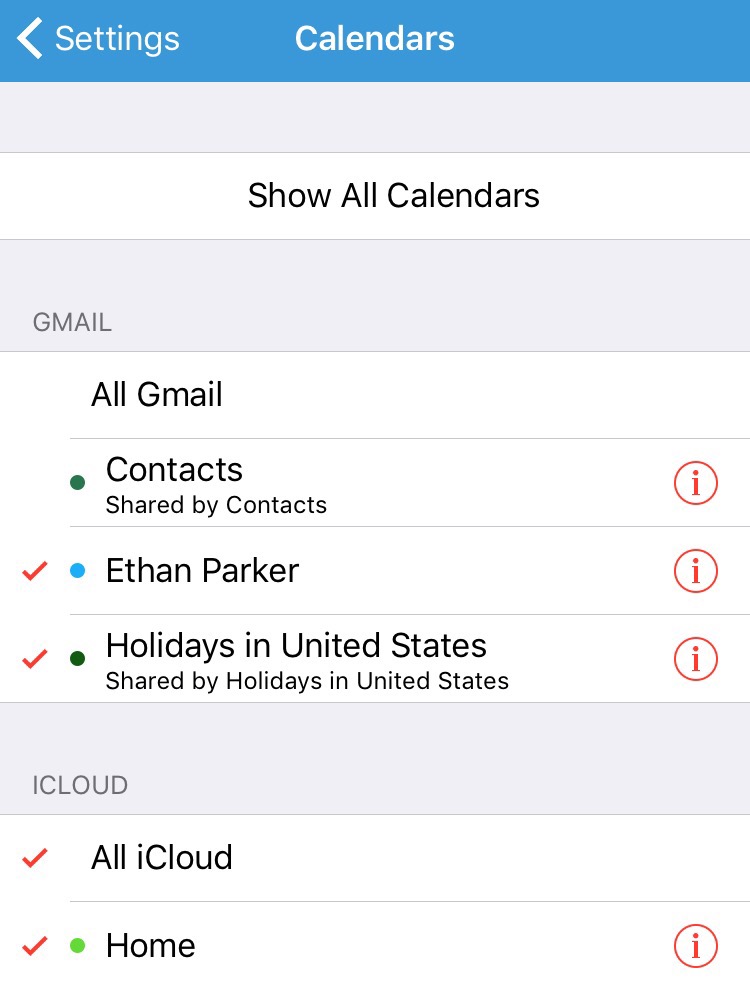 Wanted to let everyone know. Thanks for all the love! We are so freakin exited for the releases this month and we're overcome with the positive response from our fans.
We'll keep the good stuff coming. Love!
Ethan
Update, it's fixed! Now it doesn't matter how many calendars you have synced to your iOS devices or if they differ between devices. We'll show you what you want to see. Noice!
26 January 2017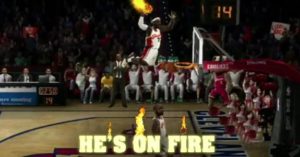 You ever play NBA Jam for SNES or Sega? It's an awesome 2 on 2 basketball video game where if you make 2 shots in a row the announcer says "He's Heating up!" then if you make the 3rd shot in a row he says "HE'S ON FIRE!!!" and you have way better accuracy and any shots made thereafter burn up the net. It's awesome.
Things are heating up here at Parker Planner and that's for sure. Since we first released the app back in 2012 MANY people have emailed, called, written, and shown up at our doorstep begging for added features and bug fixes. We've listened and done as much as we could with Parker Planner Classic and it was time we did a complete overhaul of the app.
Check out this sneak peak of the new Day View. Notice anything new?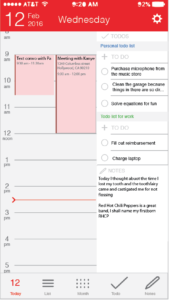 Changes coming VERY soon:
– The old app will still be available as "Parker Planner Classic". This is to respect those who have paid $0.99, $1.99, or $2.99 for the app depending on when you bought it.
– The new app will directly replace Parker Planner Free in the AppStore.
– Right out of the gate the new version of Parker Planner will sync todos with Reminders, sync notes, show todos with due dates on the List View, and have tags for notes. And if that's not enough we've got an iPad version coming very soon after the iPhone app release!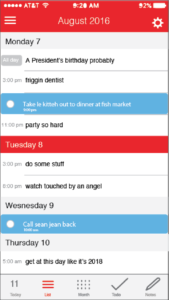 – Another really cool feature the brand new app has is the ability to clear out all completed todos with a swipe gesture. It's awesome and we can't wait to let everyone enjoy.
Big news – Parker Planner just had its 230,000th download! And also a big thanks to the many, many of you who are signed up to get notified when we release the new app. The biggest change in pricing will be our new subscription model. $1.99/mo or if you pay up front for the year at $19.99 you get 30% off. We found that the one-time purchase model made it extremely difficult to keep adding fixes and features to the app. We're committed to making Parker Planner a software product with lasting value. We want to add all the platforms, features, and fixes on a continual basis to keep you 100% satisfied with our productivity software.
We're so excited to serve such an enthusiastic and loyal crowd. Great things to come, everyone. Stay tuned!
09 August 2016
We are so thankful to have so many passionate users! To all you Parker Planner fans out there I'd like to say a person thank-you. And to show that I mean it Parker Planner is getting all the much-needed improvements and features you've been asking for.
#1
iPad app! This is a natural and obvious move so that you can enjoy our amazing productivity app on a larger screen. This will obviously come with full landscape and portrait mode support. The secret is we're re-writing the app from the ground up so it's really Universal. Same download for any iOS device and we're SO pumped!
#2
MAC APP! That's right, for MacOS (as it's called now and not OSX any more). This is the biggest news since the release of Parker Planner I tells ya! Finally you'll be able to feel what it would be like to have a calendar, to do list, and notes all in one awesome mac app rather than having to juggle all three like a rollerskating elephant. This is the best you've got right now and the experience on iOS is abysmal if you're using standard Apple tools.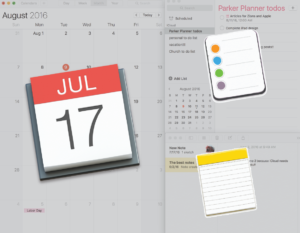 At least that's what it would look like to try and re-create Parker Planner on your mac. Have fun fiddling with those windows and not being able to manipulate the data how you want. Worry not, faithful Mac users, help is a comin.
#3
SYNC. Oh sweet sync for Parker Planner, where have you been? Hiding, that's where. Hiding behind a shroud of mystery and cake. Cake you say? Just checking if you're still with me. This is some huge huge news. Now you'll be asked to log in to Parker Planner which is a good thing, notes, todos, and calendar items will sync across all your devices and you'll find planning bliss. We're even considering incorporating OnePassword into the app so the sign-in process is even more seamless. Feel free to tell us on Twitter if you're in love with this idea.
I'm so pumped about it I can't even stand or sit, I just roll around everywhere I go. Rolling and rolling, and that's when they see me, and yes, they hatin'.
Heart,
Ethan Parker
And if for some crazy reason you're still not subscribed to find out when all this joy arrives, subscribe! The little form is above and to the right.
11 October 2015
I went to the Consumer Electronics Show this last January and it was amazing! There was literally too much to see in just one day. As my co-workers and I walked the floor I saw a familiar logo:

If you were born any earlier than 1990 you should know what this is. They made the Soundblaster sound card from your favorite 90's PC and also some truly fantastic mp3 players. I was most impressed with the creative speakers that my college roomate had. The subwoofer box was tiny but it had the power to shake the walls of our entire apartment!
At CES Creative was showcasing their new bluetooth speaker, the Soundblaster Roar. It's freaking amazing and my wife and I use it all the time. When I got home I was doing my best impression of the sales person on the floor at CES and I was saying the name of the speaker so quickly that all she hear was "Sebastian Roar" and thus came the nickname for our favorite little music blaster.
I love the simple, elegant design you'd be shocked at how much bass can come out of this thing. It's got two standard speakers and one top-mount sub.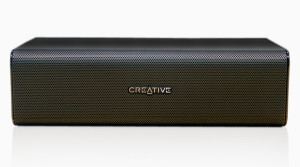 This is a cutaway view.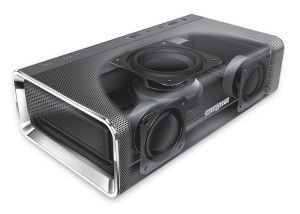 We love our Sebastian!!
18 January 2013
Our founder Ethan Parker is releasing an entertainment app next week called Fortunely, here's the teaser video:
You tap on the screen or shake the phone to get a fortune, it has over 50 different messages it can display.
Enjoy!
26 July 2012
We had a great site called appmyworld interview me recently. Here's the link: LINK
Here's the first two questions and answers:
1) Parker Planners started with paper daily planners, how did you decide to develop paper planners and why the switch to digital?
I decided to develop paper planners while studying at Brigham Young University. I couldn't find a suitable planner because I wanted something undated that would also fit inside my pocket and provide enough writing space. The switch to digital was natural because our products were already pocket-sized. We simply adapted the layout to iPhone.
2) Are you still making paper planners or have you switched completely to digital?
We are still making paper planners through a partnership agreement.
Go read the article to see more!
08 June 2012
Version 1.3 hit the app store about 2.3 minutes ago. Get excited, folks!
Here's how they look in the week view: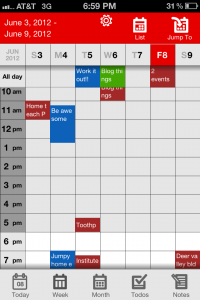 And here's the change in the day view. There's a new box at the top of the day if you have an all-day event.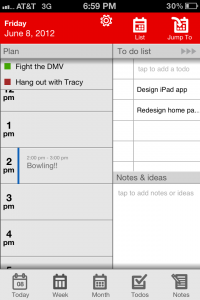 29 May 2012
Go to iTunes and review (or download if you don't have it) Parker Planner version 1.2. For those of you who had the launch screen crash, we are very sorry. For everyone else – go get that update and enjoy how fast the app opens now!

Version 1.2 will change your life. Surprised you will be. Like Yoda talk you will.
Ethan