18 January 2018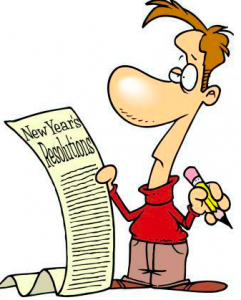 Did you know that, according to U.S. News, about 80% of New Year's resolutions fail by the second week of February? Unfortunately, that number isn't hard to believe. I know that with my busy lifestyle, I have a hard time making my resolutions a priority.  They often get lost and forgotten in the shuffle of the daily grind. But with the help of my Parker Planner app, my New Year's resolutions might actually be attainable this year.
One of my resolutions this year was to get my finances in order.  The Notes section of the Parker Planner app has been a convenient place to write down everything I need to achieve my goals and  I can easily reference it every day.  I wrote down my step-by-step plan, information on my financial advisor, recommendations from that advisor, and notes that I've gathered about which accounts I want to look into.  I also created a "New Year's Resolution" tag in my Notes section which keeps everything related to owning my goal this year organized. I could've stopped right there and had a much better chance of completing my resolution but Parker Planner offers even more features to help me ensure success.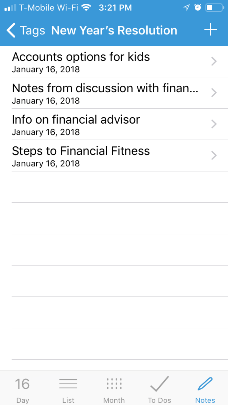 In the To Dos View, I created a new list called "Resolution" that I update daily to include my action items for that day. The beauty of the Parker Planner app is that I can easily update this list from the Day View eliminating the need to switch apps, or even views, every time I want to add an item to my to do list. So the Day View has become my New Year's Resolution hub. There, I put my daily goals and my upcoming appointments related to achieving those goals. Without ever leaving the app, I can easily switch to the Notes View, review my step-by-step plan, and then update my Day View with what I can and want to achieve that day. It's so easy!
Parker Planner has made achieving my New Year's resolution realistic and simple. I have everything I need to succeed laid out in front of me and I am reminded every day of the small steps I need to take to reach my larger goal. I'm finally pumped about my resolution because this year, I WILL NOT FAIL! Woohoo!
Written by: Jackie Patterson
28 December 2017
Christmas has come and gone (cue the tears) and by now you're probably getting used to your new iPhone X, tablet, or other random device delivered so generously by Santa. With so many apps on the market today, it's hard to tell which ones are essential and which ones are a waste of precious space. Here are four apps that, in my opinion, are indispensable.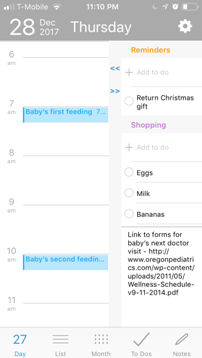 What would I have done without the Parker Planner app during the holidays? I was able to keep my to-do lists, gift lists, and calendar events all in one place, eliminating the need to remember what lists were in which app. This freed up some much needed brain space and made the holidays much less stressful. But just because Christmas is over, doesn't mean Parker Planner is less useful. Now, especially with a new baby at home, I use it to keep track of everything- doctor's appointments, shopping lists, feeding schedules, etc. And I never have to worry that I overlooked something because all I need to know is centralized on one app. AMAZING!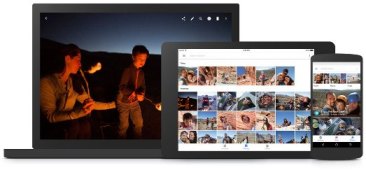 I don't know about you but I took about 1.8 billion pictures during Christmas and I would be heartbroken if I lost even one of those precious moments. Luckily there is an awesome and easy solution- Google Photos! Download this app for free and it automatically backs up all of your photos, which are then easily accessible on any device through your Google account. The app also creates videos and collages from your photos giving you the option to save them for yourself and share them with others. It's my favorite way to preserve and secure all of my priceless memories.
3) Mint


Did Christmas put a strain on your budget? Get back on financial track with Mint. Mint links to your bank accounts and automatically tracks your transactions, giving you an overview of your spending and income. It suggests budgets based on your spending trends and allows you to adjust your budgets to match your financial goals. It also provides you with a free look at your credit score and tells you what you can do to improve said score. With this app, your wallet will recover from Christmas in no time.
4) Houseparty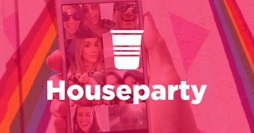 One of my favorite parts of the holidays is having out-of-towners come to visit. One of my least favorite parts is saying goodbye. Thanks to Houseparty, I can still easily keep in touch. Houseparty allows you to video chat with multiple users at once. I can start a "room" and talk virtual-face to virtual-face with my parents in Hawaii and my sister in California at the same time. And unlike FaceTime, the app works on both Apple and Android devices so everyone can join in.
There you have it- my top four essential apps! Download them today and make sure you are making the most of your new devices now!
Written by: Jackie Patterson
30 November 2017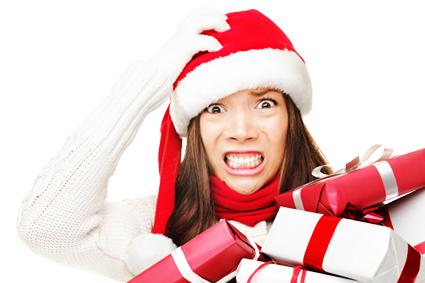 Leaves are falling, temperatures are dropping, and the time till the holidays is quickly dwindling. The holiday season, while full of joy, can also be packed with stress. Many don't realize that one of the best ways to overcome that stress is to face it head on and stay productive. But, with everything that needs to be done, how do you keep it all straight? Here are four simple things you can do to make sure you bask in holiday cheer instead of being buried in it.
1) Don't miss a date with your Santa Baby
Keeping all your dates straight may seem challenging as the holiday party invitations start to pile up on your kitchen counter. How do you make sure you don't miss a beat? Something as simple as organizing your calendar can start to release you from the vice of holiday stress. Maintaining your schedule is easier than ever in today's digital world. With your handy dandy smart phone, you can ditch your pen and paper date book and opt for the convenience of a full functioning computerized calendar. And since no one leaves the house without his or her phone these days, you will always have something reminding you of all of your fancy and fun engagements right in your pocket.
2) Easily make a list and check it twice
Do you ever lie in bed at night mulling over the many things that you have to do the next day? I know this situation all too well, especially during the holidays. I lose sleep stressing over my mental to-do list and one of the only things that helps me to calm my troubled mind is writing that to-do list down. Getting those things out of your head and dumping them into your smart phone's robot brain can help bring you the peace you need to get much needed zzzZZZ's. So don't let your holiday to-do list woes overwhelm you. Let your smart phone do the worrying while visions of sugar plums dance in your head.
3) Hit every Note right on key


Looking for a central place to keep gift lists, holiday recipes, and random ramblings of your mind? Smart phone to the rescue. Productivity apps are made for keeping all of the notes about your life organized. Never again show up to the store without your grocery list or forget those lyrics to the Christmas song you're writing. Keep them with you all the time on your phone.
4) Keep track of it all in one place with Parker Planner
Every smart phone will offer you three separate productivity apps to help keep you organized. The iPhone offers the Calendar, Notes, and Reminders apps. Separately, these tools are all great at keeping things straight but how much greater could they be if they were combined into one awesome, powerful, centralized app? The great news is that app totally exists and is as amazing as it sounds. Parker Planner combines the superpowers of Notes, Reminders, and Calendar into one user-friendly app, eliminating the need to constantly switch back and forth between productivity tools. It automatically syncs with the existing Reminders and Calendar apps on your phone and seamlessly combines them, with your notes, on one screen in the day view. All this magic happens while still giving you access to them separately within the Parker Planner app. Can an app really be that powerful and still be easy to use? Yes! Parker Planner, with its simple UI, will be the key to overcoming the craziness of the holidays and reclaiming the joy of the season. Don't believe me? Download the Parker Planner iPhone/iPad app today from the App Store and discover the beauty of combining apps for yourself. Make sure to take advantage of the free 7-day trial and then be prepared to totally own the holidays!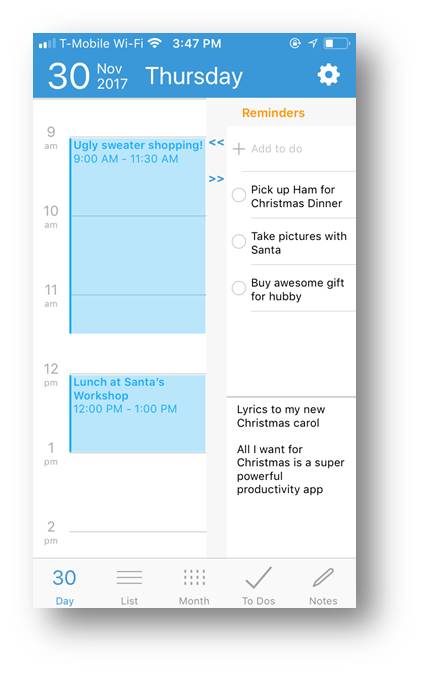 Author: Jackie Patterson
16 November 2017
Dear ParkerPlanner community,
We have some great news, the best news. Our people tell us our news is always the best, real news 😬
Web notes are here! What does this mean? It means you can access your complete slew of ParkerPlanner notes on ANY computer! Well, pretty much any computer. Commodor 64 most likely doesn't apply and I think your old 386 running Windows 3.1 doesn't exactly support FireFox's new Quantum browser. But yeah if you've got any decent version of Edge, Chrome, Safari, Opera, or Firefox you're good! YUS! Simply go here:
And log in! It's the best ever, we know you'll love it because we do. The CEO here at ParkerPlanners uses web notes every day and he's always shouting at people walking by on the street saying how much he loves it. He's probably ok…. we think. But his passion for creating excellent productivity software never waivers.
So go on, you planner, you. Head to app.parkerplanner.com and view your notes in all their glory. Of course this feature is only compatible with the newest version of ParkerPlanner for iOS Old version and super old free version need not apply.
And here's what the app looks like on web! We'll be adding todos on web soon so stay tuned. So pumped, so very pumped.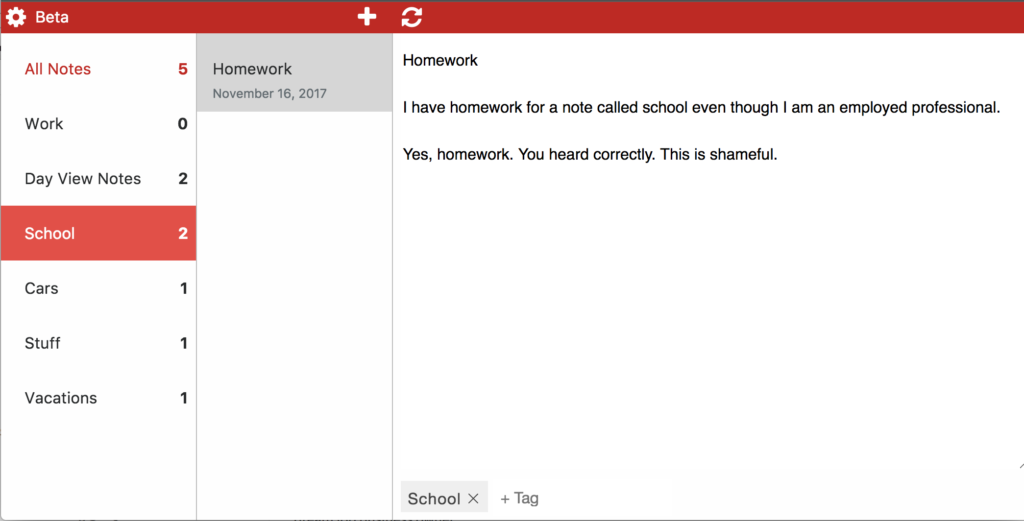 04 May 2017
We just finished this video working with Andrew Colin Beck he's a way rad artists and animator.
We're capturing the magic from the Franklin Planner and Palm Pilot and bringing them into present day. Feel the magic, so much. Many feels, wow.
03 May 2017
We're so very excited to announce the iPad app is here. You've waited and we've worked.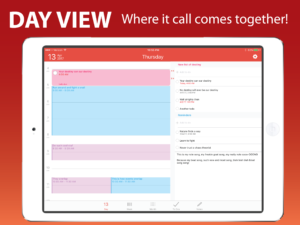 Look at Day View! You've never seen it so spacious and luxurious. Your calendar can also pinch to zoom in and out, that's something you can do on iPhone as well in case you didn't know.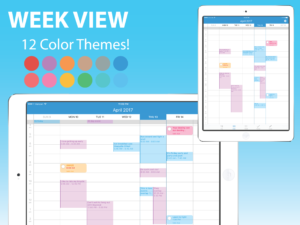 Week view gives you all the real estate you'd ever need to see what's going on. Long press or tap to create and long press to move an event around. As always press the date at the top to go to "now".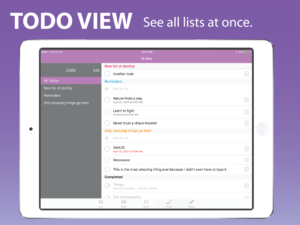 Here's something we're especially proud of – surprisingly this is the only place you'll see an "All Todos" tab for Reminders sync! Weird, huh? All the rest of the planner apps out there think you only want to see one list at a time at any time. We believe you should have the right to choose which of your own todos you see. Todo justice for all!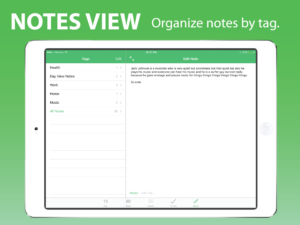 And of course Notes View is way awesome on an iPad as well because you can organize by category, or of course, view all. Add as many tags to a note as you like, it will show up in all those categories.
Enjoy!
26 April 2017
Hey everyone thanks to a faithful customer we noticed a bug that we're fixing right now.
When you're using Parker Planner on iPhone and iPad sometimes the calendars you show and hide in settings get a little mixed up.
We've found the cause and we're on it!
It was this screen: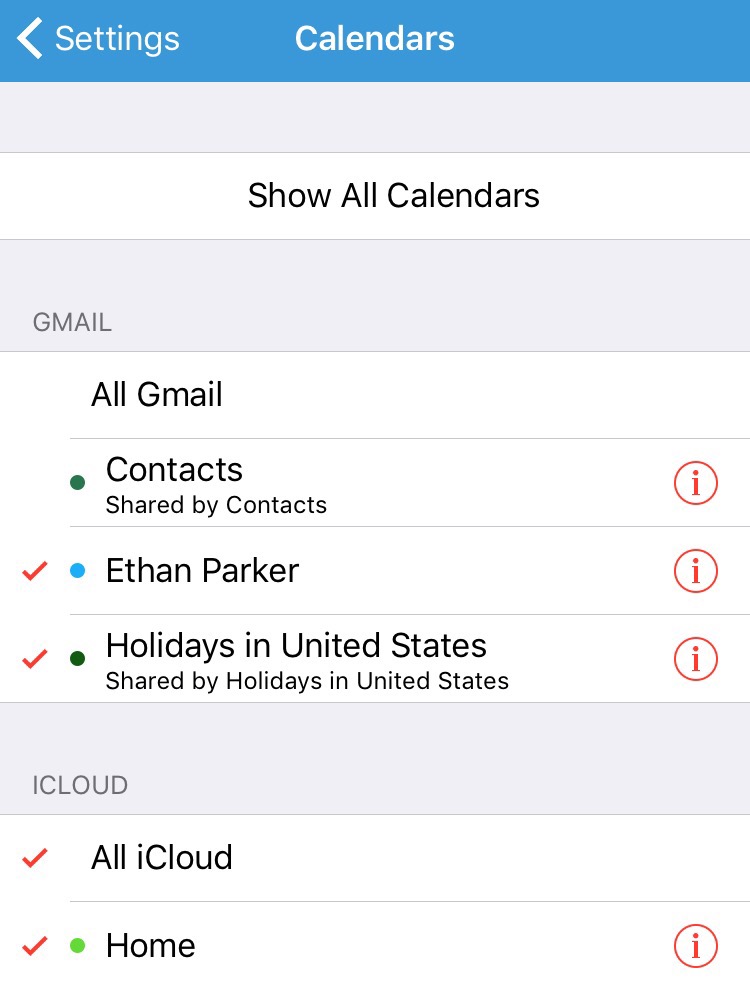 Wanted to let everyone know. Thanks for all the love! We are so freakin exited for the releases this month and we're overcome with the positive response from our fans.
We'll keep the good stuff coming. Love!
Ethan
Update, it's fixed! Now it doesn't matter how many calendars you have synced to your iOS devices or if they differ between devices. We'll show you what you want to see. Noice!
26 January 2017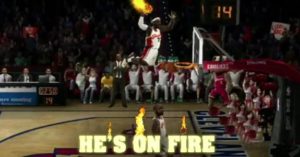 You ever play NBA Jam for SNES or Sega? It's an awesome 2 on 2 basketball video game where if you make 2 shots in a row the announcer says "He's Heating up!" then if you make the 3rd shot in a row he says "HE'S ON FIRE!!!" and you have way better accuracy and any shots made thereafter burn up the net. It's awesome.
Things are heating up here at Parker Planner and that's for sure. Since we first released the app back in 2012 MANY people have emailed, called, written, and shown up at our doorstep begging for added features and bug fixes. We've listened and done as much as we could with Parker Planner Classic and it was time we did a complete overhaul of the app.
Check out this sneak peak of the new Day View. Notice anything new?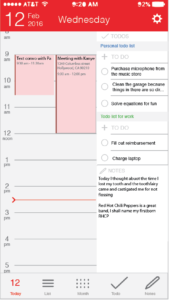 Changes coming VERY soon:
– The old app will still be available as "Parker Planner Classic". This is to respect those who have paid $0.99, $1.99, or $2.99 for the app depending on when you bought it.
– The new app will directly replace Parker Planner Free in the AppStore.
– Right out of the gate the new version of Parker Planner will sync todos with Reminders, sync notes, show todos with due dates on the List View, and have tags for notes. And if that's not enough we've got an iPad version coming very soon after the iPhone app release!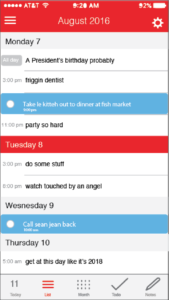 – Another really cool feature the brand new app has is the ability to clear out all completed todos with a swipe gesture. It's awesome and we can't wait to let everyone enjoy.
Big news – Parker Planner just had its 230,000th download! And also a big thanks to the many, many of you who are signed up to get notified when we release the new app. The biggest change in pricing will be our new subscription model. $1.99/mo or if you pay up front for the year at $19.99 you get 30% off. We found that the one-time purchase model made it extremely difficult to keep adding fixes and features to the app. We're committed to making Parker Planner a software product with lasting value. We want to add all the platforms, features, and fixes on a continual basis to keep you 100% satisfied with our productivity software.
We're so excited to serve such an enthusiastic and loyal crowd. Great things to come, everyone. Stay tuned!
09 August 2016
We are so thankful to have so many passionate users! To all you Parker Planner fans out there I'd like to say a person thank-you. And to show that I mean it Parker Planner is getting all the much-needed improvements and features you've been asking for.
#1
iPad app! This is a natural and obvious move so that you can enjoy our amazing productivity app on a larger screen. This will obviously come with full landscape and portrait mode support. The secret is we're re-writing the app from the ground up so it's really Universal. Same download for any iOS device and we're SO pumped!
#2
MAC APP! That's right, for MacOS (as it's called now and not OSX any more). This is the biggest news since the release of Parker Planner I tells ya! Finally you'll be able to feel what it would be like to have a calendar, to do list, and notes all in one awesome mac app rather than having to juggle all three like a rollerskating elephant. This is the best you've got right now and the experience on iOS is abysmal if you're using standard Apple tools.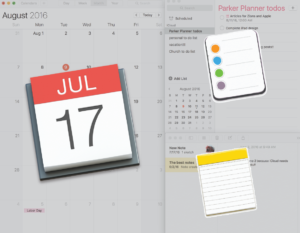 At least that's what it would look like to try and re-create Parker Planner on your mac. Have fun fiddling with those windows and not being able to manipulate the data how you want. Worry not, faithful Mac users, help is a comin.
#3
SYNC. Oh sweet sync for Parker Planner, where have you been? Hiding, that's where. Hiding behind a shroud of mystery and cake. Cake you say? Just checking if you're still with me. This is some huge huge news. Now you'll be asked to log in to Parker Planner which is a good thing, notes, todos, and calendar items will sync across all your devices and you'll find planning bliss. We're even considering incorporating OnePassword into the app so the sign-in process is even more seamless. Feel free to tell us on Twitter if you're in love with this idea.
I'm so pumped about it I can't even stand or sit, I just roll around everywhere I go. Rolling and rolling, and that's when they see me, and yes, they hatin'.
Heart,
Ethan Parker
And if for some crazy reason you're still not subscribed to find out when all this joy arrives, subscribe! The little form is above and to the right.
11 October 2015
I went to the Consumer Electronics Show this last January and it was amazing! There was literally too much to see in just one day. As my co-workers and I walked the floor I saw a familiar logo:

If you were born any earlier than 1990 you should know what this is. They made the Soundblaster sound card from your favorite 90's PC and also some truly fantastic mp3 players. I was most impressed with the creative speakers that my college roomate had. The subwoofer box was tiny but it had the power to shake the walls of our entire apartment!
At CES Creative was showcasing their new bluetooth speaker, the Soundblaster Roar. It's freaking amazing and my wife and I use it all the time. When I got home I was doing my best impression of the sales person on the floor at CES and I was saying the name of the speaker so quickly that all she hear was "Sebastian Roar" and thus came the nickname for our favorite little music blaster.
I love the simple, elegant design you'd be shocked at how much bass can come out of this thing. It's got two standard speakers and one top-mount sub.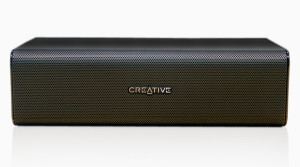 This is a cutaway view.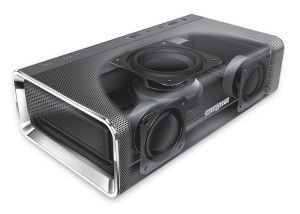 We love our Sebastian!!